Our Trainers
Staff will receive training by fully qualified trainers experienced and specialising in the health and social care sector.
Our network of accredited training providers understand the specific needs of the different industries and deliver practical training that has been tailored for workplaces like yours.
Do you need a training solution for your organisation? Train and develop your staff with our range of training courses. Fun practical and relevant for workers at all levels.
Mandatory & Specialist Training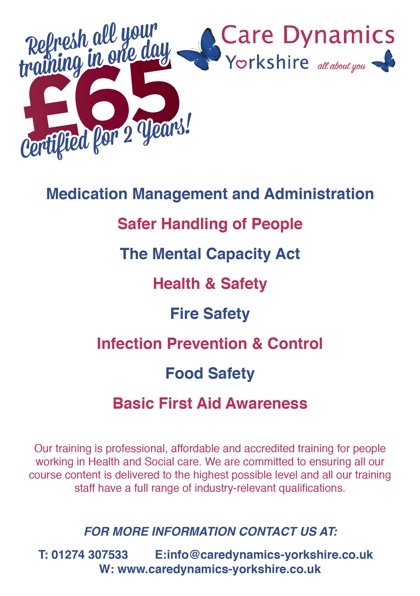 Medication: controlled drugs, legislation, administration and management, accountability.
Moving and Assisting: risk assessment, anatomy, object handling, practical techniques.
Mental Capacity Act: deprivation of liberty safeguards, the 5 principles
Health and Safety: fire safety, COSHH, recording accidents
Infection Control: blood and body fluids, micro-organisms, hand hygiene
Food Safety: the law, food storage, preparation and cooking
Basic Life Support: first aid kits, triage, primary survey, CPR, recovery position, wounds and bleeding
Other specialist training can be provided, from care-related courses  such as Positive Behavioural Support Awareness and Physical Intervention or Dementia Awareness through to specialist courses such as Epilepsy with buccal Midazolam or PEG Feeding.
Why Choose Us
CDY specialise in delivering a wide range of primary care training courses and development programmes to meet the needs of people and organisations in the Care Sector. We can also tailor, adapt and create special training courses / programmes to meet specific needs.
We constantly improve our programme content, delivery methods and skills through regular research, feedback and evaluation.
Endorsements
Candidate SW – Superb communicator, excellent trainer, course content current &  interesting
Candidate AH – Well delivered
Candidate RS – I  have learnt a lot from this training
Candidate RH – Very friendly, knowledgeable  & approachable trainer
Candidate SB –Good delivery
Candidate LA – The trainer was so good
Candidate FE – I enjoyed the training I feel highly educated it was so informative
Courses
..Please contact us for more info